Golden rules of investing
Pay off your debts first — pay off any loans, like a credit card or personal loan, before you invest.
Have emergency savings — aim to have enough set aside to cover three months' expenses, so you won't have to sell an investment if you need cash quickly.
Develop an investing plan — define your financial goals, risk tolerance, and investment time frame.
Research different asset classes — understand the risks and returns, and how they can help you reach your financial goals.
Diversify your investments — spread your money across and within asset classes to lower your portfolio's risk.
Keep track of your investments — review them regularly and make sure you're on track.
How to Invest Money
When figuring out how to invest money, it's best to start with the basics. I'm sure any financial advisor will agree with that. These basics include setting the goal of your investments and determining where to invest money to best achieve each goal.
Investing Money for Beginners
When you invest money, what you are doing is either buying a portion of a company or a commodity with the belief that the value of that company or commodity will grow over time.
Don't forget:
Investing is not a get-rich-quick scheme, but rather a way to consistently grow the wealth you already have. The good news is that even though investing is a way to grow your wealth, you don't have to have a lot of money to get started. Compounding interest dictates that even small sums of money can be turned into fortunes over time, providing you select the right investments.
Buy and sell Investments Yourself
I highly recommend investing yourself as you're in control of all the decisions. It can also be cheaper than paying someone to invest your money. The risk is that you may overrate your expertise and may not diversify. It is a great way to understand financial literacy and improve yourself in other aspects of your life.
If you invest directly, it's important to plan and put in the time to research your investments. You should also keep track of how they're performing.
Where Should I Invest Money?
I am not invested in bonds, mutual funds, etc. I manage my portfolio of shares and have a couple of investment properties earning rental income. Additionally, I will never recommend a short term gain or short term investment. If the returns look too good to be true, it could be an investment scam. Avoid high-risk products unless you fully understand their specific risks and are happy to take them on. Only consider higher-risk products once you've built up money in low and medium-risk investments. And some investments are Usually best avoided altogether.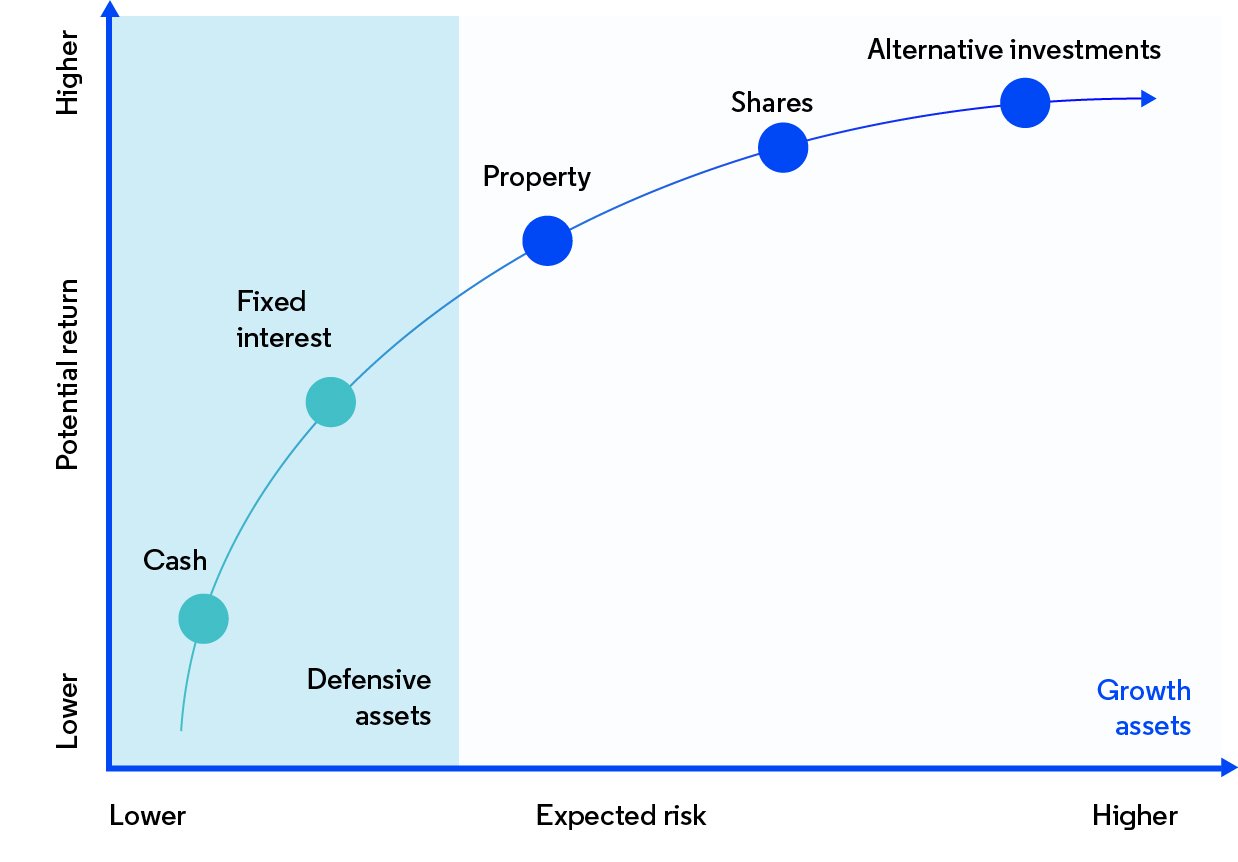 Invest in Real Estate or Stocks?
When deciding whether to invest in real estate or stock, there isn't a simple answer. Identifying the better choice depends on your personality, lifestyle preferences, comfort with risk, and more. It also depends on timing. Very few stocks would have beat buying beachfront property in California in the 1970s using a lot of debt, then cashing in twenty years later. Virtually no real estate could have beat the returns you earned if you invested in shares of Microsoft, Apple, Amazon, or Walmart early on in the companies' history, especially if you reinvested your dividends. Timing is impossible to predict when making investment choices. But understanding each type of investment is key to choosing the best strategy to help your money grow and create financial security.
Stocks
When you buy shares of stock, you are buying a piece of a company. If a company has 1,000,000 shares outstanding and you own 10,000 shares, you own 1% of the company. As the value of the company's shares grows, the value of your stock also grows. The company's board of directors, who are elected by stockholders just like you to watch over the management, decides how much of the profit each year gets reinvested in expansion and how much gets paid out as cash dividends. It's easy for stock to become over- or under-valued. Before investing, study the company as a whole, including how much of their profit is paid out as dividends. If a company is paying more than 60% of profits as dividends, they may not have enough cash flow to cover unexpected changes in the market.
When you invest in real estate, you are buying physical land or property. Some real estate costs you money every month you hold it, such as a vacant parcel of land that you pay taxes and maintenance on while waiting to sell to a developer.
Real Estate
Some real estate is cash-generating, such as an apartment building, rental houses, or strip mall where you pay expenses, tenants pay rent, and you keep the difference as profit.
Pros and Cons of Investing in Real Estate
Is real estate the right investment for you? Understanding the pros and cons will help you decide.
5 Pros of Investing in Real Estate
Comfort. Real estate is often a more comfortable investment for the lower and middle classes because they grew up exposed to it (just as the upper classes often learned about stocks, bonds, and other securities during their childhood and teenage years). Most people likely heard their parents talking about the importance of "owning a home." The result is that they are more open to buying land than many other investments.
Cash flow. Rent from real estate can provide steady, reliable cash flow on a month-to-month basis. Many investments only improve your cash flow in the long-term or when you sell them.
Limiting fraud. It's more difficult to be defrauded in real estate because you can physically show up, inspect your property, run a background check on the tenants, make sure that the building is there before you buy it, and do repairs yourself. With stocks, you have to trust the management and the auditors.
Using debt. Using leverage (debt) in real estate can be structured far more safely than using debt to buy stocks by trading on margin.3
Safety. Real estate investments have traditionally been a terrific inflation hedge to protect against a loss in the purchasing power of the dollar.4
3 Cons of Investing in Real Estate
Time and effort. Compared to stocks, real estate takes a lot of hands-on work. You have to deal with the midnight phone calls about exploding sewage in a bathroom, gas leaks, the possibility of getting sued for a bad plank on the porch, and more. Even if you hire a property manager to take care of your real estate investments, managing your investment will still require occasional meetings and oversight.
Continued costs. Real estate can cost you money every month if the property is unoccupied. You still have to pay taxes, maintenance, utilities, insurance, and more. If you find yourself with a higher-than-usual vacancy rate due to factors beyond your control, you could end up losing money every month.
Value. With a few exceptions, the actual value of real estate hardly ever increases in inflation-adjusted terms.
Even if the actual value doesn't increase, though, you benefit from the power of leverage. That is, imagine you buy a $300,000 property, putting down $60,000 of your own money. If inflation goes up 3%, then the house would go up to $309,000 in value. Your actual "value" of the house hasn't changed, just the number of dollars it takes to buy it. Because you only invested $60,000, however, that represents a return of $9,000 on $60,000: a 15% return. Factoring out the 3% inflation, that's 12% in real gains before the costs of owning the property. That is what makes real estate so attractive. Pros
Most people are more familiar with real estate as an investment than with stocks.
It provides month-to-month cash flow if you rent it out.
It's easier to avoid fraud with real estate.
Debt (leverage) is safer with real estate than stocks.
Real estate has historically served as an effective inflation hedge.
Cons
Much more work as an investment than stocks.
It can cost you money out of pocket each month if your property's unoccupied.
The increase in real estate value, in actuality, doesn't increase much when factoring in the inflation rate.
Pros and Cons of Investing in Stocks
Like real estate, investing in the stock market comes with both advantages and drawbacks.
6 Pros of Investing in Stocks
Longevity. More than 100 years of research have proven that despite all of the crashes, buying stocks, reinvesting the dividends, and holding them for long periods of time has been the greatest wealth creator in history. Nothing, in terms of other asset classes, beats business ownership—and when you buy a stock, you are buying a piece of a business.
Minimal work. Unlike running a small business, owning part of a business through shares of stock doesn't require any work on your part (other than researching each company to determine if it is a sound investment). You benefit from the company's results but don't have to show up to work.
Dividends. High-quality stocks not only increase their profits year after year, but they increase their cash dividends as well. This means that you will receive bigger checks in the mail as the company's earnings grow. And if you hold onto your stocks long-term and reinvest your dividends, after a few decades your wealth will have grown significantly.
Access. You don't need to have huge sums of available cash to begin investing in the stock market. With some mutual funds or individual stocks, you can invest as little as $100 per month. There are also a variety of micro saving apps that allow you to begin investing for less than $25.78 Real estate requires substantially more money in your initial investment, as well as the cost of maintenance and improvements.
Liquidity. Stocks are far more liquid than real estate investments. During regular market hours, you can sell your entire position, many times, in a matter of seconds. You may have to list real estate for days, weeks, months, or in extreme cases, years before finding a buyer.
Borrowing. Borrowing against your stocks is much easier than real estate. If your broker has approved you for margin borrowing (usually, it just requires you to fill out a form), it's as easy as writing a check against your account. If the money isn't in there, a debt is created against your stocks and you pay interest on it, which is typically fairly low.
3 Cons of Investing in Stocks
Emotional investing. Though stocks have been proven to generate wealth over the long run, many investors are too emotional and undisciplined to benefit fully. They end up losing money because of psychological factors. During the credit crisis of 2007-2009, well-known financial advisors were telling people to sell their stocks after the market had tanked 50%, at the very moment they should have been buying.
Short-term volatility. The price of stocks can experience extreme fluctuations in the short-term. Your $40 stock may go to $10 or $80. If you know why you own shares of a particular company, this shouldn't bother you in the slightest. You can use the opportunity to buy more shares if you think they are too cheap or sell shares if you think they are too expensive. And if you hold onto well-valued stocks over the long-term, these highs and lows are often smoothed out. But if you are hoping to make money quickly, the volatility in stock value can work against you.
Stagnation. If you invest in companies that don't have much room for innovation or growth, then your stocks may not look like they've gone anywhere for ten years or more during sideways markets.
However, this is often an illusion because charts don't factor in the single most important long-term driver of value for investors: reinvested dividends. If you use the cash a company sends you for owning its stock to buy more shares, over time, you should own far more shares, which entitles you to even more cash dividends over time.
Pros
Over 100 years of stock market returns history shows them to be a consistently-good wealth creator.
You can own part of a business (through stock shares) without having to do any work.
If you own shares in a company that pays dividends, your share price and your dividend amount may both grow over time.
You can diversify much easier with stocks than with real estate, especially with mutual funds.
Stock investments are very liquid so your money's not locked up for weeks or months.
You can borrow against the value of your stocks more easily than with real estate.
Cons
Successful stock investing requires an unemotional approach, which is difficult for the majority of investors.
Stock prices can fluctuate very much in the short run, which can leave inexperienced investors worried.
Dividend-paying stocks may look like they haven't grown in value at all during sideways market conditions.
Choosing Between Stocks vs. Real Estate
Both real estate and stocks can provide long-term financial gain, and both come with risks. When choosing the right investment strategy for you, the best way to hedge against that risk while taking advantage of the potential gains is to diversify as much as you are able.
How investment income is taxed
You need to include investment income in your tax return. This includes what you earn in:
interest
dividends
rent
managed funds distributions
capital gains
You pay tax on investment income at your marginal tax rate.
You're allowed tax deductions for the cost of buying, managing, and selling an investment. But there are rules around what you can and can't claim as a tax deduction. See the Australian Taxation Office (ATO)'s investment income deductions.
Making capital gains or losses
Capital gains
If you sell an investment for more than the cost to acquire it, you make a capital gain. You need to include all capital gains in your tax return in the year you sell the investment. Capital gains are taxed at your marginal rate.
If you've held the investment for more than 12 months, you're only taxed on half of the capital gain. This is known as the capital gains tax (CGT) discount.
The ATO has information to help you work out your capital gains tax on different investments.
Capital losses
If you sell an investment for less than the cost to acquire it, you make a capital loss.
You can use a capital loss to:
reduce capital gains made in the year the loss occurs, or
carry forward the loss to offset future capital gains
Positive versus negative gearing
Positive gearing
Positive gearing is where you borrow money to invest and the income from the investment (for example, rent or dividends) is more than the cost of the investment (interest and other expenses).
If you're positively geared, you'll have extra money coming in. But you'll also have to pay tax on this income at tax time.
Negative gearing
Negative gearing is where you borrow to invest and the investment income is less than the cost of the investment.
Investors negatively gear as they can generally claim a tax deduction for the investment loss. The aim is for the capital growth to offset the loss in earlier years.
If you're making an investment loss, it is still costing you money. You'll need to have cash from other sources, like your salary, to cover interest and expenses.
Tax-effective investments
A tax-effective investment is one where the tax on your investment income is less than your marginal tax rate.
Choose investments based on your financial goals, risks you're comfortable with, and expected returns. Tax benefits should be a secondary consideration.
Superannuation
Super is a tax-effective investment and one of the best ways to save for retirement. This is because the government provides tax incentives to save through super. These include:
A tax rate of 15% on employer super contributions and salary sacrifice contributions, if they're below the $25,000 cap.
A maximum tax rate of 15% on investment earnings in super and 10% for capital gains.
No tax on withdrawals from super for most people over age 60.
Tax-free investment earnings when you start a super pension.
See Tax and super for more information.
Investing and your tax return
Keeping good records will help you at tax time to:
Report investment income.
Claim all tax deductions you're entitled to.
It will also help you calculate any capital gains or losses when you sell an investment.
For investments, you need to keep records to show:
How much you paid for it — contracts for the purchase of the asset and receipts.
How much you sold it for — contracts for the sale of an asset and receipts.
The income you get from the investment — keep all records of income payments such as distribution statements, rental payment receipts, and dividend statements.
Expenses paid while owning the investment — receipts for payments made to manage, maintain, or improve the investment.
You'll need to keep records for five years after you included the income and capital gain or loss in your tax return.
Key takeaways
Taxes shouldn't be the primary driver of your investment strategy—but it makes sense to take advantage of opportunities to manage, defer, and reduce taxes.
Manage income taxes by considering the role of losses, the timing of investments, and investment selection.
Using tax-deferred accounts when appropriate can help keep more of your money invested and working for you—and then you can pay taxes on withdrawals in the future.
Reduce taxes by considering strategies like donating appreciated securities to charity.
The bottom line of Taxes
Your financial strategy involves a lot more than just taxes, but by being strategic about the potential opportunities to manage, defer, and reduce taxes, you could potentially improve your bottom line.
Borrowing to Invest
Borrowing to invest, also known as gearing or leverage, is a risky business. While you get bigger returns when markets go up, it leads to larger losses when markets fall. You still have to repay the investment loan and interest, even if your investment falls in value.
Borrowing to invest is high risk
Borrowing to invest gives you access to more money to invest. This can help increase your returns or allow you to buy bigger investments, such as property. There may also be tax benefits if you're on a high marginal tax rate, such as tax deductions on interest payments.
But, the more you borrow the more you can lose. The major risks of borrowing to invest are:
Bigger losses — Borrowing to invest increases the amount you'll lose if your investments fall in value. You need to repay the loan and interest regardless of how your investment goes.
Capital risk — The value of your investment can go down. If you have to sell the investment quickly it may not cover the loan balance.
Investment income risk — The income from an investment may be lower than expected. For example, a renter may move out or a company may not pay a dividend. Make sure you can cover living costs and loan repayments if you don't get any investment income.
Interest rate risk — If you have a variable rate loan, the interest rate and interest payments can increase. If interest rates went up by 2% or 4%, could you still afford the repayments?
Borrowing to invest only makes sense if the return (after tax) is greater than all the costs of the investment and the loan. If not, you're taking on a lot of risk for a low or negative return.
As a new investor I would not suggest borrowing to make investments until you understand how it all works. Have a look at Warren Buffet's thoughts on borrowing here.
Conclusion
This was a basic overview of everything I look for when investing in my preferred diversified investments of Stocks and Property. Please be careful when investing and take some time to understand how it all works. Don't forget to track your investments and reap the rewards of depreciation on your taxes and not paying tax for fully franked dividends!